Tau Kwa with Bean Sprouts
Watercress and Tau Kwa Stir-Fried in Tau Cheow
Crispy Tofu With Sweet And Sour Sauce
One pot braised tau kwa, tau kee, tau pok, mushroom, chicken and eggs
Tau Kwa with Bean Sprouts
Ingredients:
4 pieces of Taukwa
400g beansprout with roots removed
5 stalks of spring onions, cut them into same length as beansprouts
2 no of chillies, cut into half and slice width of chillies thinly
30g salted vegetables
1 tsp minced garlic
50ml chicken stock
Splash of Hua tiao wine soya sauce and pepper to taste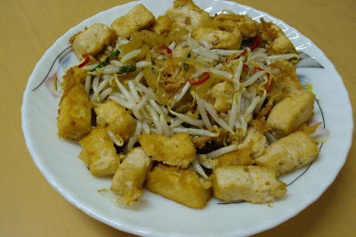 Method:
Soak taukwa in salted water for 5 mins.
Drain and cut them into long thin slices.
Rinse bean sprouts. Set aside.
Soak salted vegetable for 10 mins.
Drain and shred thinly. Set aside.
Heat 6 tbsp of oil and pan fry taukwa till golden brown. Remove and drain off excess oil. Set side.
Heat 2 tbsp of oil and fry garlic till fragrant. Add in salted vegetables and fry briefly.
Add in beansprout. Give a splash of Hua tiao wine.
A quick stir and add in chillies and stock.
Stir and bring to a boil.
Season with pepper and soya sauce.
Add in spring onion and taukwa.
Give it a quick stir.
Watercress and Tau Kwa Stir-Fried in Tau Cheows
Ingredients:
1 tbsp oil
1 garlic clove, finely chopped
1 cake tau kwa, cut into squares
1 bunch watercress, torn to small sections
1 tbsp tau cheow, crushed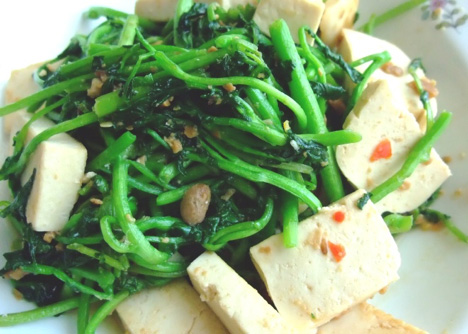 Method:
Heat the wok and the oil till oil shimmers, then add the garlic.
Fry till fragrant.
Add the tau kwa and fry till tau kwa is browned but not burnt.
Add the watercress and tau cheow and fry till the veg turns deep green.
Crispy Tofu With Sweet And Sour Sauce
Ingredients:
Two pieces of Tau Kwa
Some thinly sliced cucumber, pressed dry
Some thinly sliced carrot, pressed dry
Some spring onion, shredded
Some salt
Some corn flour
Sauce
1 tbsp Thai Sweet Chilli sauce
1 tbsp plum sauce
1 tbsp water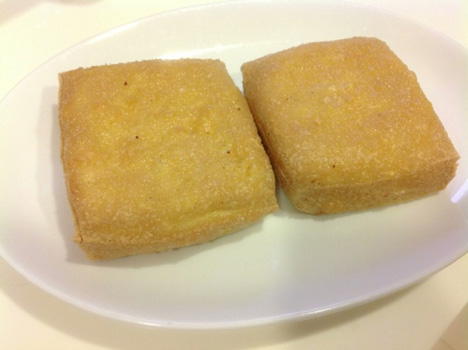 Method:
Coat the tau kwa with a sprinkle of salt and corn flour.
Deep fry till golden brown.
One pot braised tau kwa, tau kee, tau pok, mushroom, chicken and eggs
Ingredients:
4 dried beancurd sticks (tau kee, 腐竹)
3 tau kwa
8 long tau pok ( cut into small cubes)
2 tbsp oyster sauce
2 tbsp light soya sauce
2 tsp dark soya sauce
1 tbsp Shaoxing wine
1 tbsp brown sugar
1 tsp five-spice powder
1 star anise
3 cloves garlic, washed and smashed
2 shallots, chopped into small pieces
3 thin slices ginger
3 chicken thighs chop into 3 parts
5 hard boiled eggs ( de shelled)
10 pieces of Chinese mushroom ( pre soak in water) cut into half
500 ml water ( mushroom stock plus water)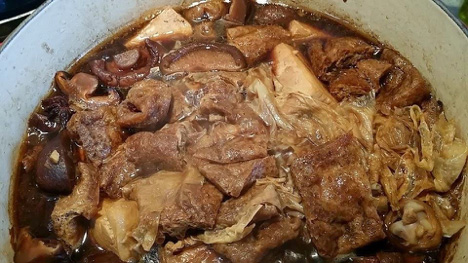 Method:
Heat up wok and add some olive oil.
Fry the garlic, ginger, star anise and shallots till fragrant.
Then place the chicken meat and turn until brown.
Add in oyster sauce, light soy sauce, dark soya sauce, wine, brown sugar, pepper and water.
Stir well and bring to boil.
Add in the hard boiled eggs, tau pok, tau kwa, tau kee and mushroom.
Bring to a slow boil for 20 mins to 30 mins till gravy level lowers and the taste and colour is brown.
Taste and add more seasoning to your prefer taste.
You can add more water if u like more gravy as the tau kee, tau pok will absorb the gravy.